Rep. Jason Saine
97th District
Effective Leadership for Lincoln County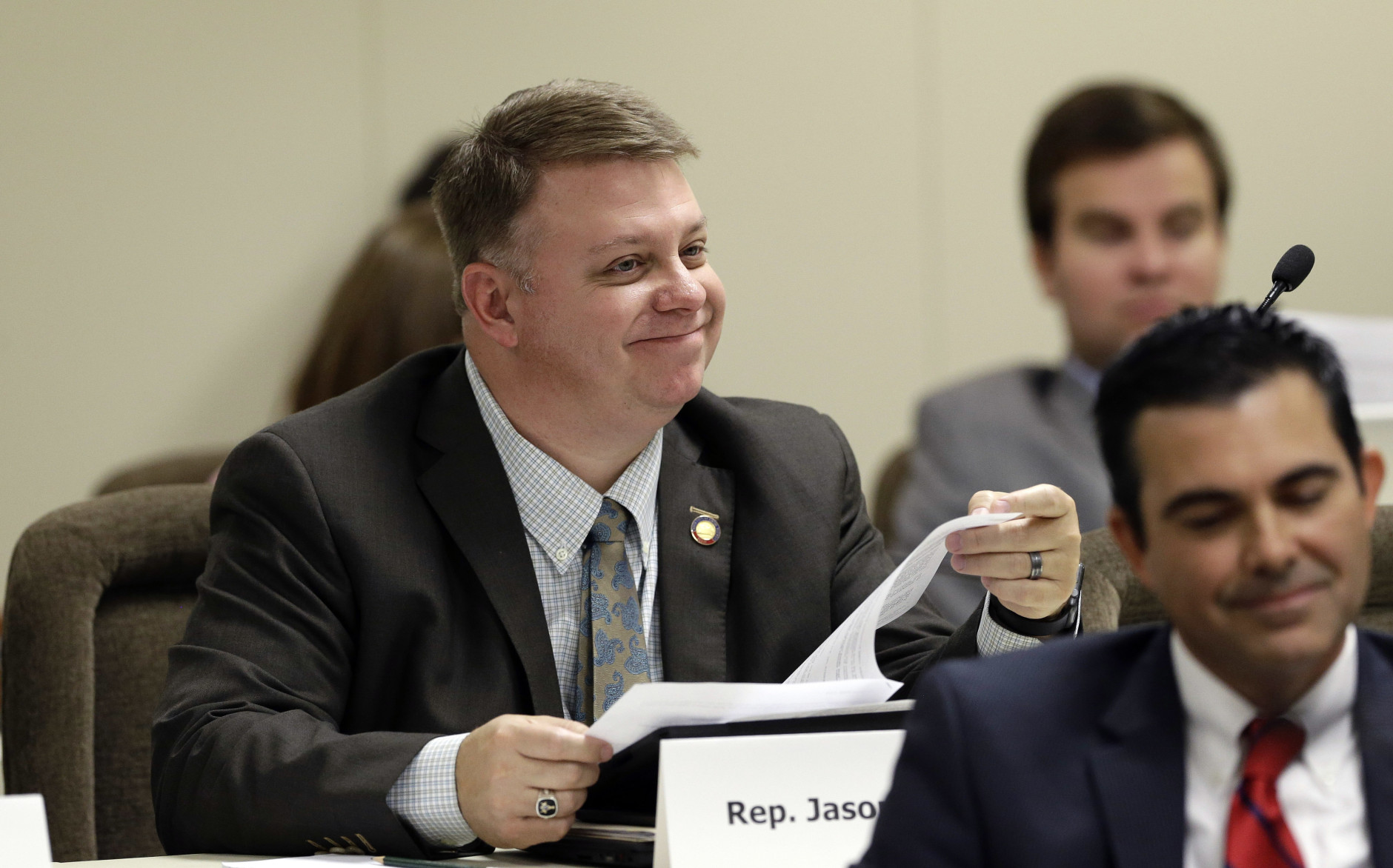 Representative Jason r. Saine
Representative Jason Saine represents the 97th North Carolina House District which encompasses Lincoln County.
Representative Saine is serving his third full term in the North Carolina House after being appointed in 2011 to fill out the remaining term of Rep. Johnathan Rhyne. During his first full term Rep. Saine was recognized as the most effective freshman in the North Carolina House. Rep. Saine won reelection in 2012, 2014, and 2016.
Saine was appointed by Speaker of the House Tim Moore to serve as Senior Chairman for the House Finance Committee. The Finance Committee is responsible for tax policy in North Carolina, and in that role Chairman Saine has helped to shepherd through over half a billion dollars in tax decreases for North Carolina working families.
In 2013 Saine was appointed by Speaker Thom Tillis to serve as the first ever House Appropriations Chairman of Information Technology. In that role, he oversees roughly $1.6 billion in technology spending for the state of North Carolina. He was reappointed to continue in that role in by Speaker Moore in 2015.
Governor Pat McCrory made efficiency in technology one of his top priorities and Saine has worked closely with the State Chief Information Officer to implement and achieve success in IT innovation.
Saine was recognized for his work in IT recently by winning the North Carolina Technology Association's Public Leadership Award. He has also led on a number of important issues during the 2015 Legislative session, including: creating a cabinet level Department of Information Technology, protecting student and employee social media privacy, changing State tax law to incentivize IT job creation, and encouraging IT innovation at colleges and universities and in State government.
Saine was also recently appointed to the Federal Communications Commission's Intergovernmental Advisory Committee where he will use his expertise as a state legislator and technology business owner to help create better IT and telecommunication policy in the coming years at the federal level.
He also serves as Vice Chairman of the House Appropriations Committee, as Co-Chair of the Joint Legislative Committee on IT Oversight, Co-Chair of the Revenue Laws Study Committee, Co-Chair of the Joint Legislative Oversight Committee on the North Carolina State Lottery, and is a member of the following committees: Alcoholic Beverage Control, Commerce and Job Development, Education - K-12, Elections, Health, Judiciary II, and Rules Calendar and Operations of the House.
"Getting it done"
Representative Saine's Legislative Accomplishments
Children's Advocacy Centers
Children's Advocacy Centers of North Carolina (CACNC) is the statewide chapter of North Carolina's 31 Child Advocacy Centers (CAC). Each center is an independent agency, providing services for abused children, and relies on their local communities for support. Child Advocacy Centers provide unduplicated services into North Carolina's children in a manner that protects the child, prosecutes the predator and fosters healing.

Rep. Saine filed House Bill 45 after being made aware that CAC's like Lincoln County Child Advocacy Center were underfunded. Rep. Saine achieved the initial funding increase in 2015 with the passage of the budget that included $775,000 in funding for CACNC. In 2016 Rep. Saine worked to ensure that the 106% funding increased he secured in 2015 was maintained for the future by making the funding for CACNC recurring. In North Carolina 8844 children received services through CAC's, 8040 child abuse cases were investigated, and 49622 child abuse prevent programs were provided.
In 2017 Rep. Saine filed House Bill 897 which would further double CAC funding for CACs in good standing. This bill was included in the final budget for 2017-2018 and became law July 1st, 2017.
Protecting Our Firefighters
House Bill 666 was introduced in early 2015 by Rep. Jason Saine. The bill sought to provide care for firefighters who contracted cancer during the course of their service. Research over the past several years indicates that firefighters 3-4 times more likely to contract cancer than any other member of the general public.
In 2016 Rep. Saine led the charge again for firefighters, this time seeking to help the families of firefighters that die from certain cancers. Due to that NC's firefighters that succumb to mesothelioma, intestinal or testicular cancer will be considered to have died in the Line of Duty, thus providing their families with benefits that they have not previously been eligible for. The North Carolina Professional Firefighters and Paramedics will be honoring Rep. Saine on September 15, 2016, for his tireless efforts to protect NC's bravest men and women.
Effective Leadership
Jason Saine ranked 5th in House for effectiveness
Adam Lawson, Staff Writer | Lincoln Times-News
04/27/2016
Lincoln County state Rep. Jason Saine was voted the fifth-most-effective member of the House by his peers in Raleigh, according to a survey conducted by the North Carolina Center for Public Policy Research.
The poll asked House members, senators, lobbyists, lead legislative liaisons and capital news correspondents to rate each member of the General Assembly based on effectiveness on a 1-to-10 scale. Legislators could only rate members within their chamber.
Participants were advised to base their votes on committee participation, ability to guide bills through committee and then floor debate, general knowledge, political power and the ability to sway other legislators. The survey had a 46-percent response rate.
Saine finished just below House Speaker Tim Moore and fellow Republicans David Lewis, Nelson Dollar and Skip Stam.
"You're ranked by your peers and people that I interact with," Saine said. "My takeaway is it's probably one of the highest honors I can get, because it's what my colleagues think. It pretty much is as fair an approach to the ranking system as you could hope for. The fact they regard me so highly is a compliment."
David Curtis, Lincoln County's other legislator in Raleigh, finished 35th among the 50 senators. Despite there being a Republican supermajority, he polled behind four Democrats and was voted the fourth least-effective Republican.
The top 21 senators and first 12 House members in the poll were Republican. Democrats filled the bottom 10 and 16 spots, respectively, in the Senate and House lists.
Curtis moved up in ranking 10 slots from the last time the survey was conducted, during the 2013 legislative session. Saine moved 26 spots since his freshman term.
"It had already been switched over to Republican and it was the first time that I had been ranked," Saine said. "I was the highest ranking freshman then. Now, for my sophomore term to come out like this, it's kind of unique."
Saine, a senior finance chairman and chairman of the Appropriations, Information Technology committee, the Revenue Laws Study committee and the Joint Legislative Oversight committees on information technology and the North Carolina State Lottery, believes the high ranking came in part because he sets out to accomplish what is feasible.
"I'm pretty frank when people come to my office. I try to be realistic about what we can do," Saine said. "When people try to ask for my time I try to give it the best that I can. I try to be very open and transparent. From a personal viewpoint, I think that's something the people of Lincoln County sent me there to do."
The NCPPR also ranked legislators on their attendance records and the percentage of votes cast while present. Curtis missed 10 full days of the 137-day session and had two additional partial absences, which put him in a tie for 38th in attendance. The House met for 135 days and Saine compiled a combined nine full or partial absences, which put him in a tie for 71st.
Curtis missed 68 votes while away but participated in all 696 votes taken while he was present. He was one of 18 senators to have a 100-percent voter participation percentage. Saine missed 24 of the 1,021 votes he could've partaken in and finished 103rd among his peers.
The NCPPR is an independent nonprofit that formed in 1977.
ADDRESS
417 East Main Street
Suite 103
Lincolnton, NC 28092
Please use the form below to send us an email: